A ManNet Review on Star Crossed!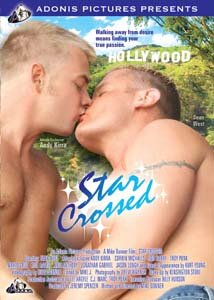 ManNet Review of
Star Crossed:
Highly Recommended
Director Mike Donner's "Star Crossed" is an unusually good-natured look at what can happen when a hick boy goes to La-La Land looking to make his dreams come true. It dispenses with most of the usual swipes at Hollywood and instead focuses on such un-sleazy topics as true love. This attitude filters through into the sex scenes, which have a uniform tenderness, with only one exception.
The narration tells us that Sean West is the perfect guy: a wrestler, a student, a looker and desirous of being an actor. Back in his hometown, which is actually a trailer in the desert, blond wide-eyed Sean also has a boyfriend in adorable petite Andy Kirra. The two seem quite in love as they make out on a sheet near a cozy rock. They spend leisurely time kissing and touching each other, in no rush to end this lovely session. Sean blows first, revealing that on top of all those other talents, he's a fine deep-throating cocksucker. Very able Andy does a luscious big-time sucking on Sean's thick cock, as sensual as it is full of oomph. Andy bends over the rock so Sean can lick his bubbly ass, which contains a lightly hairy tight asshole. He then fucks his boyfriend, awkward at first but soon giving way to a comfortable easygoing rhythm. These boyfriends are well-tuned, for soon Sean is on his back and Andy is confidently fucking him. Sean shoots first, just missing the tiny heart tattoo near his crotch and then Andy gets off with one of Sean's fingers thrust up his ass. This has some finality, because Sean is going to Hollywood to chase his dream, but Andy promises he'll be waiting, with Sean's promise that he'll not meet a hot stud on Venice Beach and forget all about him...
To Read more Click Here - ManNet.com