New Company Releases Two Titles in May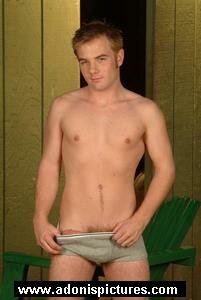 VAN NUYS, Calif
. - New gay video company Adonis Pictures will release its first two titles this month. The company was founded by former GAYVN Managing Editor Jeremy Spencer and business partner Billy Hudson.
The first feature,
Lust Counseling
, was directed by Mike Donner. The production focuses on a camp run by a couple (
Jason Branch
and
Kent Larson
) who counsel other gay couples to explore their erotic natures.
Brad Benton
,
Jack Ryan
,
Dante Foxx
, and
Andy Kirra
head the cast. Kirra, discovered by Donner, is now exclusive with Adonis Pictures.
"We were reluctant to have an exclusive right off the bat," Spencer told GAYVN, "but once we met Andy and saw his work, we knew we wanted him on board." Kirra will also continue to work for Donner and Steve Jerome's company, All American Men. "Why should we just take the credit when Mike did all the work?" said Spencer. "Andy likes working with Mike, and a happy model makes good videos!"
Adonis' second feature, Running Wild, was directed by legendary Michael Zen. Shot in Zen's trademark fantasy-meets-reality style, the movie stars Justin Wells. Also in the cast are Jason Crew, Bobby Williams, Corbin Michaels, and Nick Capra.
"Working this side of the camera has been a huge eye-opener for me," Spencer said. "You don't realize how much work putting a production together is. It's a lot of fun, but a lot of work. I have newfound respect for the producers and directors in this industry."
A release party for both titles will be held on Friday, May 27, in Chicago at Hydrate, to correspond with Gay Chicago's Grabby Awards and the International Mr. Leather (IML) contest.
Adonis' third movie, Bed Heads, directed by Ross Cannon, will be released in July.
By: Doug Lawrence GayVN.com
Posted: 11:27 am PDT 5-24-2005